Can Machine Intelligence Solve Entertainment's Data Challenges?
What are the latest developments in visual and sound recognition, natural language processing, machine learning and artificial intelligence and how are entertainment, finance, retail and insurance integrating these tools into their services? Do entertainment datasets, pipelines and workflows present a one-of-a-kind challenge or do other sectors share similar pain points and bottlenecks? Are there ways that content owners, distributors, service providers, and technology companies can collaborate to jumpstart the application of signal analysis and neural networks to their mutual benefit? Attendees will hear concrete and practical use cases from leaders in the field such as Sentient, Amazon, Clarafai, IBM and Rage and see machine intelligence's potential to plus production and archiving efficiencies, leverage libraries and grow profits.
Registration:
By invitation only.
When: Thursday, March 23, 2017.
Previous Events
Rise of the Machine: A New Age In Metadata
Can 21st Century data science help solve some of the intractable metadata challenges faced by production, post and archiving? Find out at this interactive forum examining innovations in upstream metadata capture and utilization and the potential for change through data identification, machine learning and AI combined with indelible and unstructured metadata. Presentations, case studies and panels about current and emerging filmmaker solutions; Hollywood and Dublin Core; audio and video content recognition; deep learning; extracting and managing unstructured production metadata; leveraging descriptive metadata for greater ROI; and more.
Target Audience:
Studio, network and OTT executives, production and postproduction leads, technologists and archivists; producers and below-the-line workflow experts; executives and technologists at hardware, software and service companies working in production technology, data capture, recognition and optimization, and asset management.
Registration:
By invitation only. Audience makeup will be calibrated to support a thorough, balanced and open dialogue. Safe harbor—there will be no media coverage.
When: Wednesday, November 2, 1:00 PM – 5:30 PM with a reception.
Sponsors:
Hosting Sponsors
Supporting Sponsors
Hosting Sponsor
Participating Sponsor
Event Sponsor
Gallery:
Business of VR workshop
One hundred and four business people with direct involvement in Virtual Reality attended The Business of VR workshop co-produced by the Entertainment Technology Center at USC and the Advanced Imaging Society.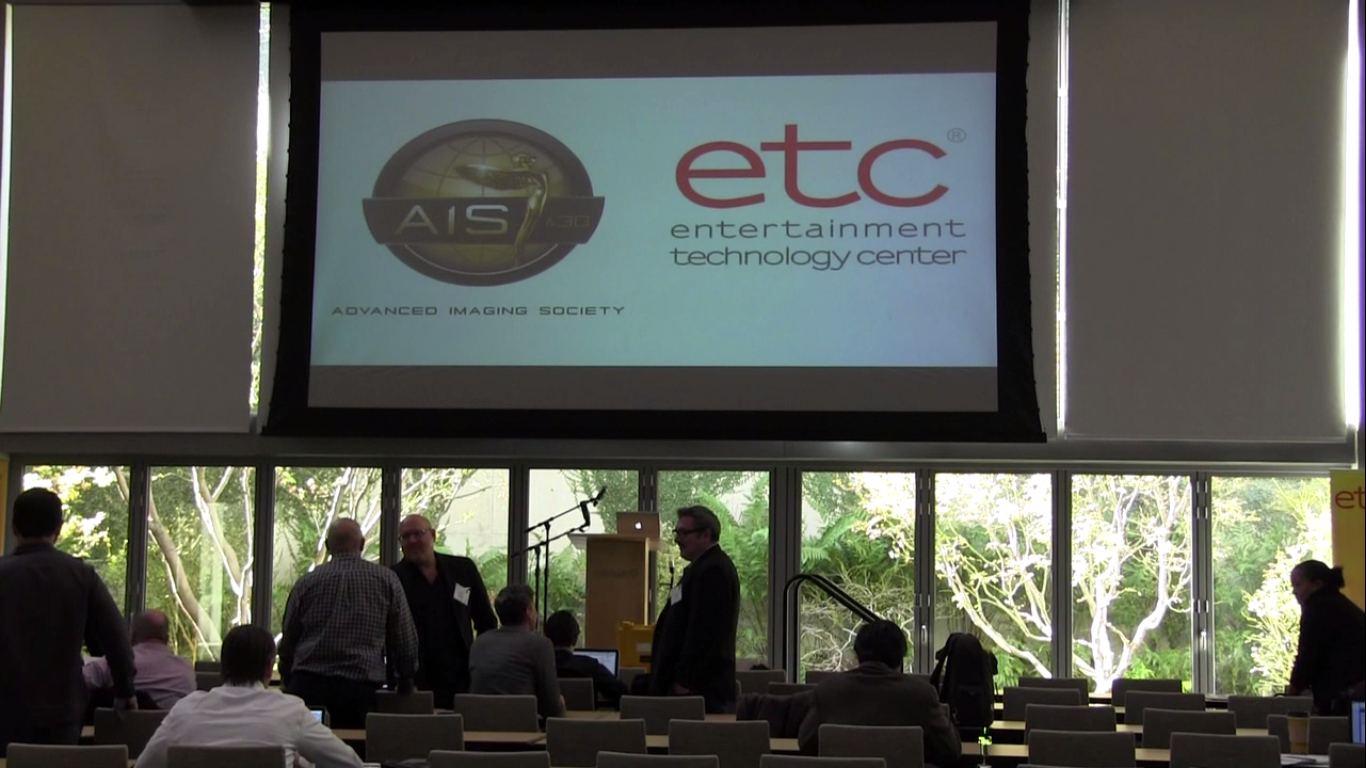 Over the course of the afternoon the attendees heard seven 10-minute presentations, participated in one of four moderated discussion groups, and had the opportunity to experience seven VR demos while networking. The event was held at the Skirball Center, Los Angeles, on November 17, 2015.
The program provided attendees with perspective, discussion and experiences beginning with seven 10-minute presentations from the following speakers :
Jeffrey Greller, Digital Agent with a Focus on VR at WME|IMG
Seth Shapiro, Principal, New Amsterdam Media, Adjunct Prof., USC School of Cinematic Arts, and Governor, Interactive Media Peer Group, the Television Academy
Brian Furano, Director of River Studios, Venture Advisor for VR focused Rothenberg Ventures
Eunice Shin, Director, Manatt Digital Media; Anthony Borquez, Founder and CEO of Grab Games
Clifton Dawson, CEO, Greenlight VR, a VR-focused market research company
Schuyler Moore, Partner, Stroock & Stroock & Lavan.
While the majority of the presentations focused on content and platforms, Moore delivered a provocative array of potential legal issues that few in the audience had heretofore considered.
Following the meeting, VR and AR Initiative Leader Phil Lelyveld published a comprehensive summary of the presentations and group discussions that explored location-based entertainment, platforms and money, content and money, and big picture strategy. The report is available at Etcenter.org.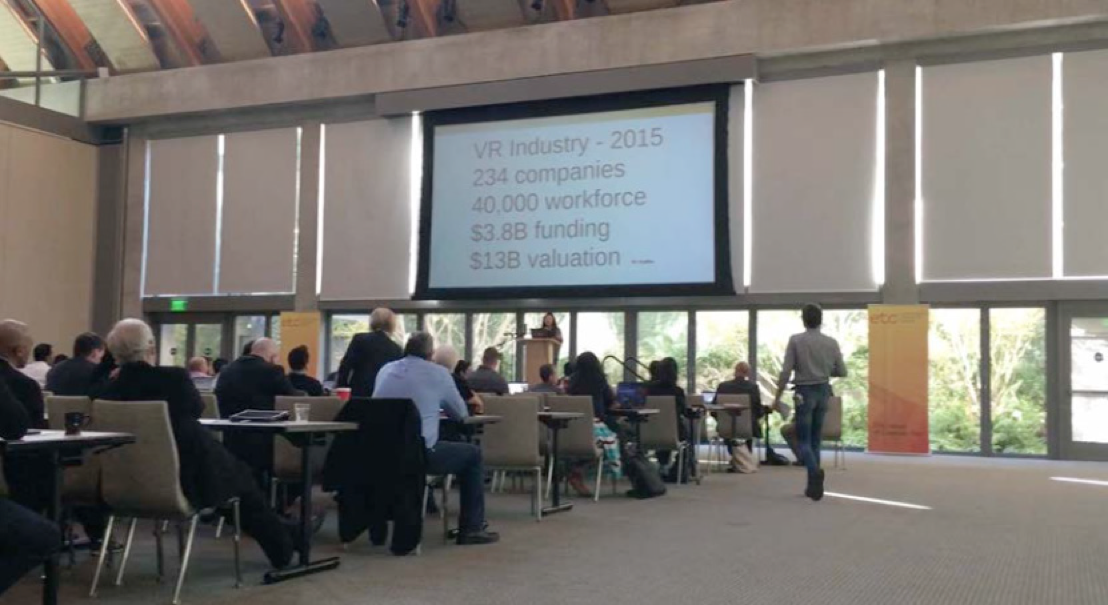 That's Cool, Now What? How to Tell Stories in Virtual Reality
One hundred and twenty creative leaders in VR, video games, TV, movies, theater and traditional entertainment gathered on February 19, 2015 to discuss the emerging language of VR storytelling.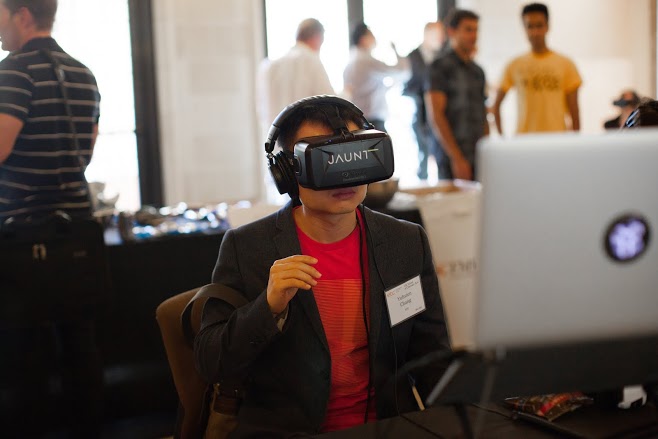 Following two sessions of presentations and group discussions, the participants broke into five moderated working groups.  The working groups discussed their current thinking on the topic: what approaches carry over from other artistic media; and what issues, approaches, and concerns are new to the VR environment?  A report pulling together the thoughts of this community was published.
The panelists and presenters were:
Matt Apfel, vp, strategy & creative content, Samsung Media Solutions Center America
Danny Bilson, writer/director/producer (EA, THQ, Warner Bros., Disney)
Mark Bolas, director, Mixed Reality Lab, associate director, USC's ICT, associate professor, USC's SCA Interactive Media Division
Philip Lelyveld, sr. program manager, ETC
Alex McDowell, narrative designer, creative director, 5D GlobalStudio, Professor of Practice, USC School of Cinematic Arts, Media Arts + Practice (Intel's "Leviathan," "Minority Report," "Watchmen")
Charlie Otte, creative director, Thinkwell (Guthrie, Lincoln Center, Brooklyn Academy of Music)
Jon Snoody, R&D studio executive, Walt Disney Imagineering ("Captain EO," "Indiana Jones™ Adventure," "Aladdin's Magic Carpet Ride")
Sean Stewart, founder, Three Story House (former CD Xbox Studios, award-winning novelist, co-creator ARG genre)
VR experience demos were provided by Samsung Electronics America, Jaunt, Assimilate, Emblematic, Funktronics Labs, InnerSpace VR, Metaverse Systems, Nurulize, 
Otherworld Interactive,  Reel FX, VRSE, 
VisiSonics, and WEVR (formerly WemoLab).
Read our full report here
Sponsors:
Participating Sponsors:
Supporting Sponsor:
Realizing The Promise of UHD
On Thursday, June 12, 2014, the ETC@USC hosted a Digital Town Square at the London West Hollywood Hotel: "Realizing The Promise of UHD."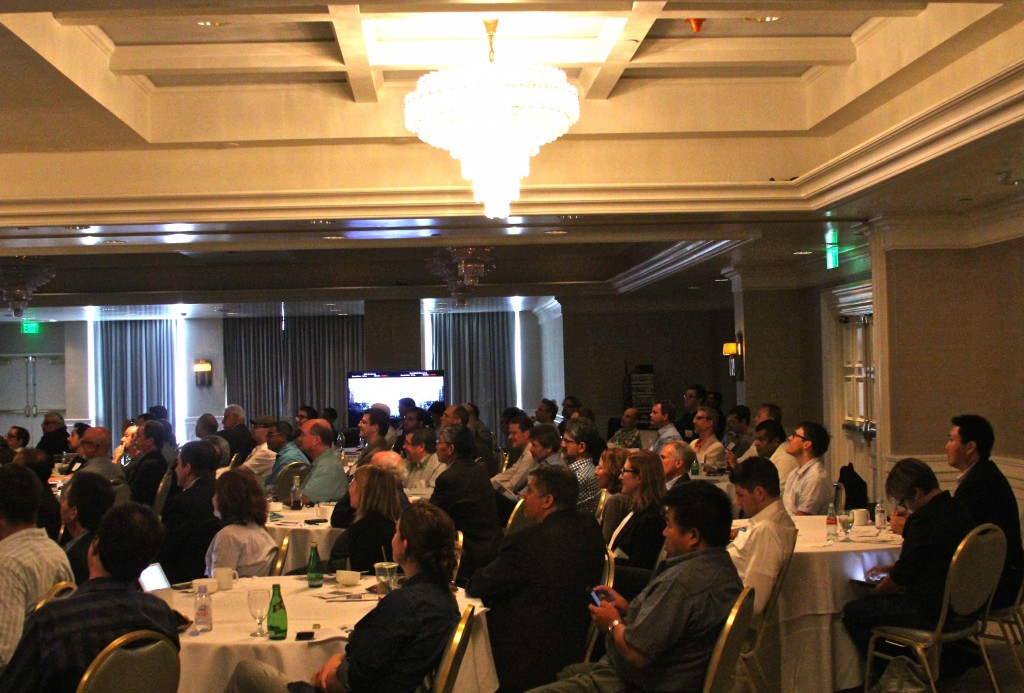 The introduction of digital cameras that strived to match or exceed film negatives' capabilities and of UHD displays that support the explosion in home viewing have set in motion a re-evaluation of the professional entertainment supply chain. New practices, technologies and standards are being proposed to address image quality, the creative process, storage and transport roadblocks, the audience experience, and more. But are the major opportunities and challenges being addressed? The time is right to take stock of the progress to date, to examine and evaluate the solutions on the table to and to prepare for the future.
Filmmakers, display manufacturers, senior executives, and technologists from the content supply chain at studios, networks, and post-production/distribution companies and vendors participated in an interactive 360° forum examining the 4K supply chain options that will further the artistic and business interests of the entertainment and CE industry while delivering a demonstrably improved viewing experience. Among the topics of focus were resolution, high dynamic range (HDR), high frame rate (HFR), post and distribution workflows, new compression and color space solutions, UHD TV innovations, refresh rates, and other settings.
Presenters and Speakers:
Wendy Aylsworth, SVP Technology, Warner Bros. Technical Operations
Bill Baggelaar, SVP Technology, Colorworks / Post Production Services, Sony Pictures Entertainment
Nick Colsey, VP, Business Development, Sony Electronics
Jon Fairhurst, Head, CE Standards, Sharp Labs of America
Chris Fetner, Director, Content Relations, Netflix
Joe Kane, CEO, Joe Kane Productions / Consultant, Samsung Electronics
Howard Lukk, VP, Digital Production Technology, Walt Disney Studios
N (Nandhu) Nandhakumar, SVP, LG Technology Center of America
Daryn Okada, ASC, Director of Photography
Dave Schnuelle, Senior Director, Image Technology, Dolby Laboratories
Yasser Syed, Ph.D., Comcast Distinguished Engineer, Comcast Cable
Moderator: 
Jim Houston, Principal, Starwatcher Digital
Sponsored By:

Gallery