The Entertainment Technology Center at the University of Southern California (ETC@USC) is a think tank and research center that brings together senior executives, innovators, thought leaders, and catalysts from the entertainment, consumer electronics, technology, and services industries along with the academic resources of the University of Southern California to explore and to act upon topics and issues related to the creation, distribution, and consumption of entertainment content. As an organization within the USC School of Cinematic Arts, ETC helps drive collaborative projects among its member companies and engages with next generation consumers to understand the impact of emerging technology on all aspects of the entertainment industry, especially technology development and implementation, the creative process, business models, and future trends. ETC acts as a convener and accelerator for entertainment technology and commerce through: Research, Publications, Events, Collaborative Projects and Shared Exploratory Labs and Demonstrations.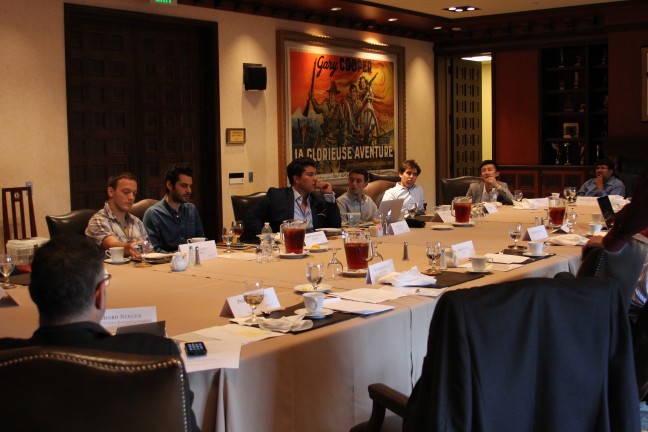 ETC@USC was founded with the help of George Lucas in 1993 with the goal of bringing technology and entertainment visionaries together to collaborate on the future of entertainment technology. Along with USC's School of Cinematic Arts, our Sponsoring participants comprise the major studios: Disney, Sony Pictures Entertainment, Twentieth Century Fox, Paramount, Warner Bros. Entertainment, DTS, Lucasfilm Ltd, and TATA Consultancy Services. ETC was established with the mission to be a neutral research organization devoted to identifying pivotal, emerging entertainment technologies and creating programs to analyze and test them. ETC first distinguished itself with its Digital Cinema Lab, which created an accelerator and a neutral home for the discussions that led to the creation of the Digital Cinema specification (by DCI) and the worldwide rollout of Digital Cinema. The Digital Cinema Lab's success provided a template for the creation of ETC's other industry-shaping laboratories: the Anytime/Anywhere Content Lab and the Consumer 3D Experience Lab.
For more information on what we do to move entertainment technology forward, visit our activities page. For a more in-depth description of the center, download the ETC Overview here
NEUTRAL SETTING: the ETC does not endorse technologies, products, services, or vendors. Participation in ETC activities is not an explicit or implicit endorsement of any technology, product, service, or vendor.