"That's Cool, Now What? How to Tell Stories in Virtual Reality" 
One hundred and twenty creative leaders in VR, video games, TV, movies, theater and traditional entertainment gathered on February 19, 2015 to discuss the emerging language of VR storytelling.  Following two sessions of presentations and group discussions, the participants broke into five moderated working groups.  The working groups discussed their current thinking on the topic: what approaches carry over from other artistic media; and what issues, approaches, and concerns are new to the VR environment?  A report pulling together the thoughts of this community was published.
The panelists and presenters were:
Matt Apfel, vp, strategy & creative content, Samsung Media Solutions Center America
Danny Bilson, writer/director/producer (EA, THQ, Warner Bros., Disney)
Mark Bolas, director, Mixed Reality Lab, associate director, USC's ICT, associate professor, USC's SCA Interactive Media Division
Philip Lelyveld, sr. program manager, ETC
Alex McDowell, narrative designer, creative director, 5D GlobalStudio, Professor of Practice, USC School of Cinematic Arts, Media Arts + Practice (Intel's "Leviathan," "Minority Report," "Watchmen")
Charlie Otte, creative director, Thinkwell (Guthrie, Lincoln Center, Brooklyn Academy of Music)
Jon Snoody, R&D studio executive, Walt Disney Imagineering ("Captain EO," "Indiana Jones™ Adventure," "Aladdin's Magic Carpet Ride")
Sean Stewart, founder, Three Story House (former CD Xbox Studios, award-winning novelist, co-creator ARG genre)
VR experience demos were provided by Samsung Electronics America, Jaunt, Assimilate, Emblematic, Funktronics Labs, InnerSpace VR, Metaverse Systems, Nurulize, 
Otherworld Interactive,  Reel FX, VRSE, 
VisiSonics, and WEVR (formerly WemoLab).

Read our full report here

Sponsors:
Participating Sponsors:
Supporting Sponsor:
Previous Events
On Thursday, June 12, 2014, the ETC@USC hosted a Digital Town Square at the London West Hollywood Hotel: "Realizing The Promise of UHD."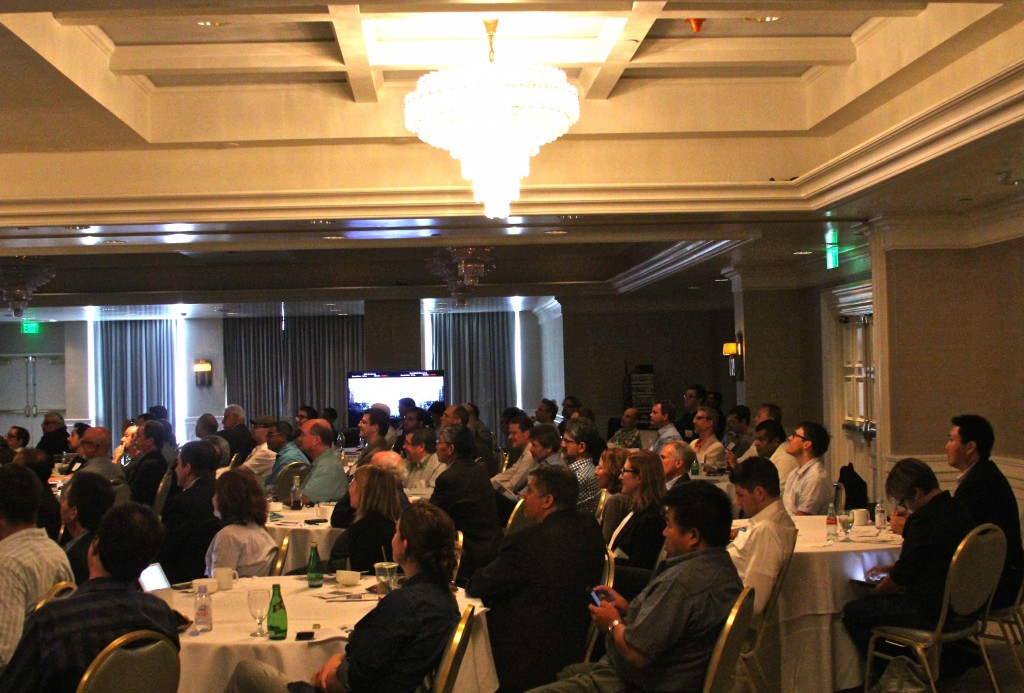 The introduction of digital cameras that strived to match or exceed film negatives' capabilities and of UHD displays that support the explosion in home viewing have set in motion a re-evaluation of the professional entertainment supply chain. New practices, technologies and standards are being proposed to address image quality, the creative process, storage and transport roadblocks, the audience experience, and more. But are the major opportunities and challenges being addressed? The time is right to take stock of the progress to date, to examine and evaluate the solutions on the table to and to prepare for the future.
Filmmakers, display manufacturers, senior executives, and technologists from the content supply chain at studios, networks, and post-production/distribution companies and vendors participated in an interactive 360° forum examining the 4K supply chain options that will further the artistic and business interests of the entertainment and CE industry while delivering a demonstrably improved viewing experience. Among the topics of focus were resolution, high dynamic range (HDR), high frame rate (HFR), post and distribution workflows, new compression and color space solutions, UHD TV innovations, refresh rates, and other settings.
Presenters and Speakers:
Wendy Aylsworth, SVP Technology, Warner Bros. Technical Operations
Bill Baggelaar, SVP Technology, Colorworks / Post Production Services, Sony Pictures Entertainment
Nick Colsey, VP, Business Development, Sony Electronics
Jon Fairhurst, Head, CE Standards, Sharp Labs of America
Chris Fetner, Director, Content Relations, Netflix
Joe Kane, CEO, Joe Kane Productions / Consultant, Samsung Electronics
Howard Lukk, VP, Digital Production Technology, Walt Disney Studios
N (Nandhu) Nandhakumar, SVP, LG Technology Center of America
Daryn Okada, ASC, Director of Photography
Dave Schnuelle, Senior Director, Image Technology, Dolby Laboratories
Yasser Syed, Ph.D., Comcast Distinguished Engineer, Comcast Cable
Moderator: 
Jim Houston, Principal, Starwatcher Digital
Sponsored By:

Gallery